Dam, that is a good sight!
Dam, that is a good sight!
24 March 2021                                                                    
Storm King Dam at Stanthorpe has spilled over with 140mm received in the catchment in a 24 hour period.
As at 4am on Wednesday 24 March, Leslie Dam is at 23.33% of which 15% is Council's full urban allocation. Connolly Dam is at 100% and Storm King Dam at an incredible 100%.
Southern Downs Mayor Vic Pennisi said that the Stanthorpe dam had lived up to the legacy of its name.
"The catchment has lived up to its name, the king storm has filled up Storm King Dam," Mayor Pennisi said.
"After months of reporting that Storm King Dam was at 21.8% or lower and carting an average of 565 truckloads of water to Stanthorpe per fortnight, this is a sight for sore eyes that will relieve a lot of pressure in the community.
"Water security has been a top priority for the Southern Downs Regional Council and although the recent rains have brought significant inflows into our dams, Council assures residents that it will continue to explore all avenues to responsibly manage water supply for the community.
"We have seen excellent tourist numbers carried over from 2020 to 2021 as the region saw its first sunflower crops in two years and no doubt visitors planning to come to the Southern Downs and Granite Belt over Easter for camping or fishing holidays will be overjoyed at the news of water in our dams."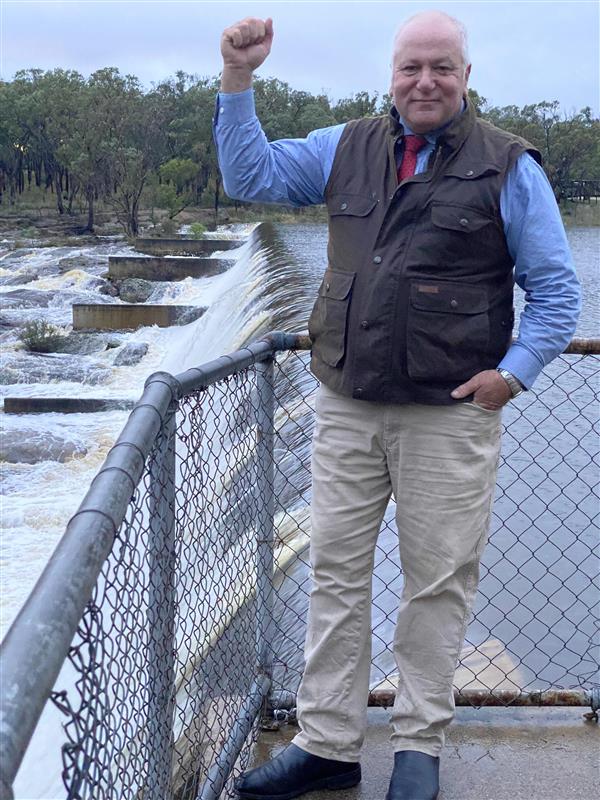 VICTORY! Mayor Vic Pennisi at Storm King Dam on 24 March 2021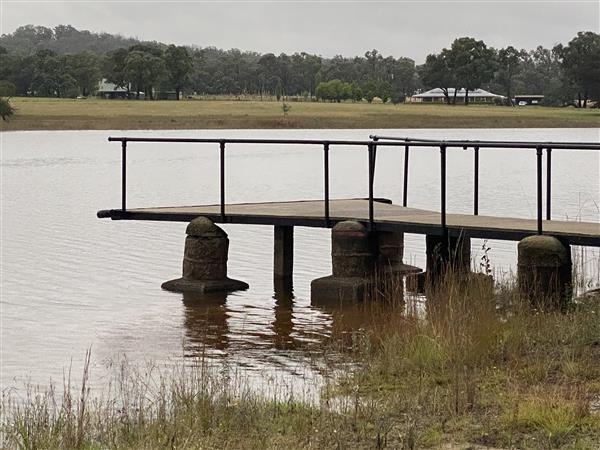 What a difference a day makes – Storm King Dam Jetty 6pm Tue 23 March 2021
What a difference a day make – Storm King Dam Jetty 6am Wed 24 March 2021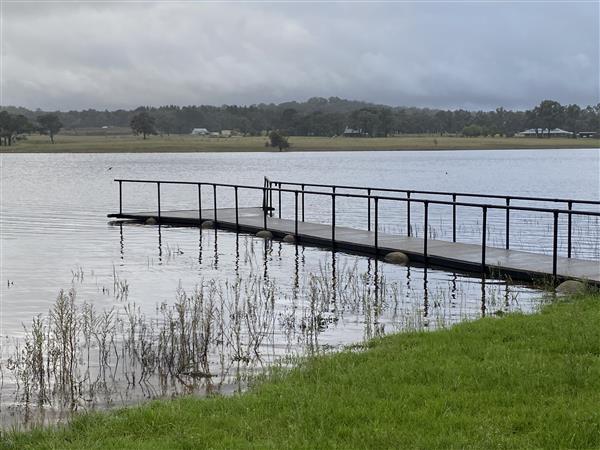 For updated dam levels visit:
//www.sdrc.qld.gov.au/living-here/water-wastewater/water-update
For current Road Closures visit:
As flood waters recede Council encourages residents to use the 'Fix It' tab on the My SDRC App to report any issues on roads in the Southern Downs.
A number of roads across the region are currently impacted by the rain and an updated road closure information can be found on Council's website at: //disasterdashboard.sdrc.qld.gov.au/.
Council wishes to advise residents that as flood waters recede, roads will have some flood damaged that will be addressed as time permits.
Remember:  IF IT'S FLOODED – FORGET IT.
Please ensure that you don't drive through flood waters. 
You can stay up-to-date by checking in with:
If you need emergency assistance:
Life-threatening emergency – 000

SES – 132 500
//www.sdrc.qld.gov.au/council/alerts-news-notices/2021-news/2021-march/dam-that-is-a-good-sight