Council partners with Rotary on an important health issue – Screen early for bowel cancer and save lives
Council partners with Rotary on an important health issue – Screen early for bowel cancer and save lives
21 July 2021
Council partners with Rotary on an important
health issue: Screen early for bowel cancer and save lives

It might take a village to raise a child but it will take a whole community to
beat bowel cancer. According to the Australian Cancer Atlas, Warwick is 27%
above the national average for excess bowel cancer deaths. Along with the Southern
Downs Regional Council, the Queensland Rotary Bowelscan Committee is hoping
that a whole-of-town approach will turn that around with an important awareness
campaign.
Starting Monday 19 through to Sunday
25 July, the #GetYourBumIntoGearWarwick Week wants to grab the attention of the
whole town including Council, health professionals, businesses, sporting groups
and volunteer groups. Following on from the highly successful
#GetYourBumIntoGearQLD Tour last April, Rotary is hoping to raise awareness of
bowel cancer, the symptoms, encouraging over 50s to use the free government
test kits and to help prevent early onset under age 50 bowel cancers.
Spokesperson for the Queensland
Rotary Bowelscan Committee, Mal Padgett, said, "Many think bowel cancer is
just an old person's disease but 10% are under 50. That is around 1550
Australians annually or 30 young people a week are told, 'You have bowel
cancer.'"
"On our recent tour through
Queensland, the people we met in Warwick were visibly shocked when they heard
that high bowel cancer statistic for their town. Everyone we met had no idea
and all wanted to know how they can help. #GetYourBumIntoGearWarwick is an
opportunity to rally the whole community to fight this preventable disease."
Southern Downs Mayor Vic Pennisi said
that it is important to normalise this disease and talking openly about the
very affordable and easily available screening tests is one way to get the
message out.
"A small investment in your health
today could be saving your life tomorrow," Mayor Pennisi said.
"It is important to get screened and
I am calling on our local media and community organisations to spread the
message through your community or workplace anyway you can so that we can get
this number down and save lives."
On Rotary's #BowelscanQLD social media,
they have interviewed five young Queenslanders from age 29 to 39 for their
#2Young4BowelCancer campaign, all of whom have challenging stories of how their
lives were turned upside-down when they contracted early onset bowel
cancer. 
Around 15,500 people contract bowel
cancer a year which is the second highest cancer killer and the third most
diagnosed cancer.
If it is found early enough it is 98%
curable but only 50% are found early. If it is found at stage 4, the five year
survival rate drops to 16%.
Only 42% of the free Federal
Government bowel cancer test kits are returned, only one in three people
between 50 and 55 use them.
Rotary are selling their test kits
online for $20 or you can buy one at your local pharmacy.
Until 31 July, search for #BowelscanQLD
to find and follow Rotary's campaign social media and also to purchase a kit
online.
Find songs to smash bowel cancer with on Spotify, posters for your
workplace, merchandise and interviews via Rotary's linktr.ee/bowelscanqld or
scan the QR code in the poster attached.
For more information contact: ROTARY: Mal Padgett – 0417 307 708
– BowelscanQLD@gmail.com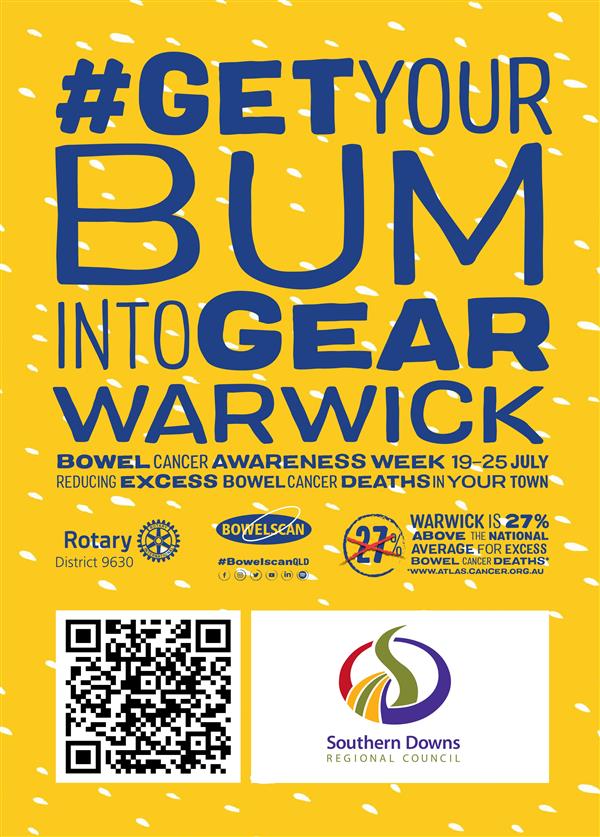 //www.sdrc.qld.gov.au/council/alerts-news-notices/2021-news/2021-july/council-partners-with-rotary-on-an-important-health-issue-screen-early-for-bowel-cancer-and-save-lives