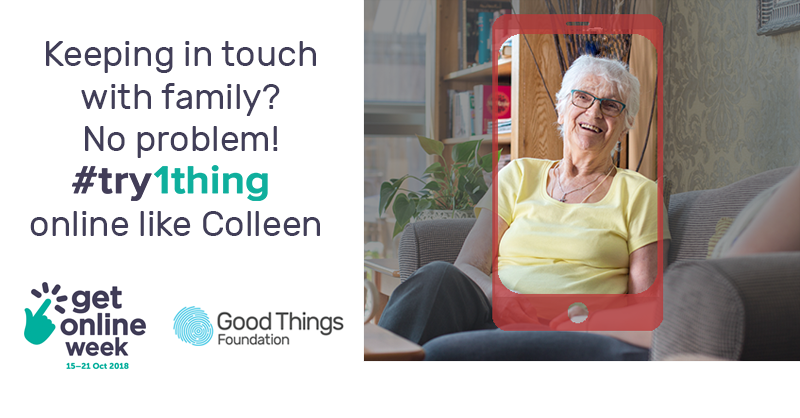 As an initiative to #Try1Thing online, GraniteNet Inc. is taking part in the Good Things Foundation's Get Online Week 2018, and we are encouraging you to take part too!
There is a few ways you can participate in the FREE events on offer from 15th to 21st October 2018!
1. Take a selfie – Download our selfie sign (from the downloads section) and take your selfie and then post it to
social media. (Facebook, Twitter, Instagram or any other social application you use.) Don't forget to include the hashtag #try1thing so we can see
all your fantastic photos!
2. Participate in an open age free training session, and brush up on your computer skills, learn new things, and keep up to date at GraniteNet.
3. Download the tip sheets (from the downloads section) to gain insight in how to protect yourself online, manage your health online, or banking securely online.
4. Jobsearch online free at ANY TIME at GraniteNet.
5. Contact your loved ones with FREE video chat at GraniteNet.
6. Photograph the region, and share it with GraniteNet on our Facebook Page.
7. Open Age FREE INTERNET access during the Get Online Week. (Excludes printing costs).
Find out more events near you, or more about Get Online Week; //www.getonlineweek.com/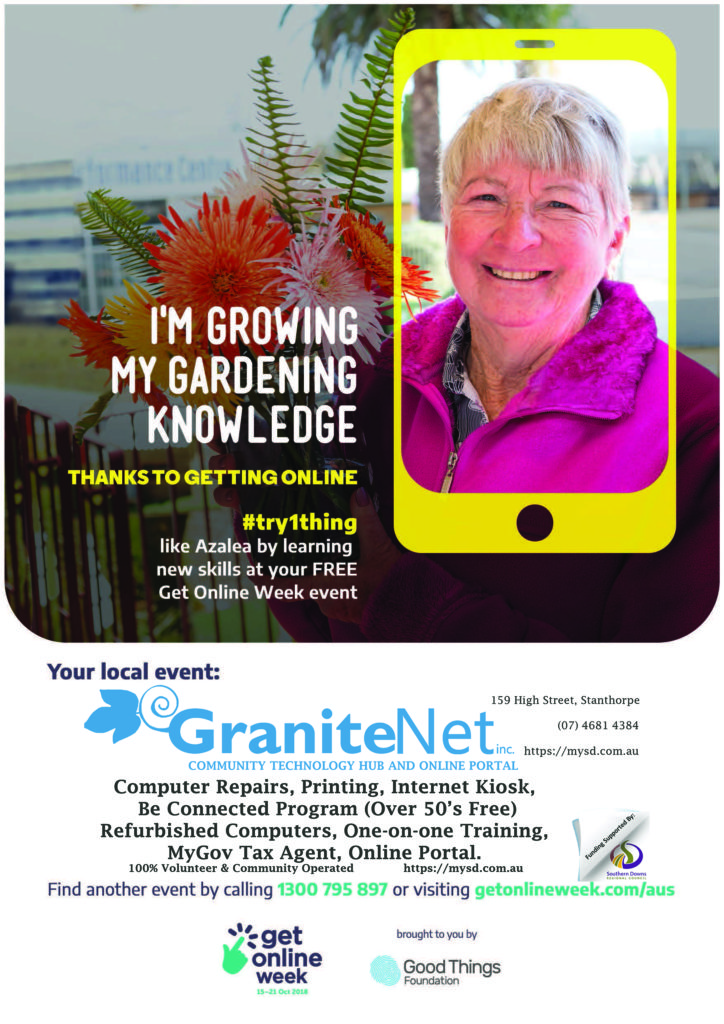 Take your selfie, with this selfie sign, and post it to social media with hashtag #try1thing
Using the internet to manage your money is quick, safe and convenient. Simple transactions can be done in just a couple of minutes, no matter where you are. You can check your balance, pay bills, transfer money and manage direct debits – all in just a few clicks. Learn how with this simple guide!
Enjoy all the things you can do online, while staying safe and secure.Your password is the key to your online accounts – and
should be kept secret. Top tip: Not too simple – longer passwords that feature a mixture of letters, numbers and symbols are more secure. Learn more in this helpful guide..