Southern Downs businesses Bounce Back Better over breakfast
Southern Downs businesses Bounce Back Better over breakfast
27 April 2021 
The theme of the 2021 Queensland Small Business Month is Bounce Back Better and the Southern Downs business community are invited to come together at the Realise Our Potential Business breakfast to be held on Friday 7 May 2021 in Warwick.
An initiative of Southern Downs Regional Council's Economic Development and Tourism department, the Realise Our Potential breakfast offers attendees the chance to come together and look back over a tough couple of years as local industry leaders join important conversations, network and share strategies of how to overcome challenges and find new ways of looking at success.
Southern Downs Mayor Vic Pennisi said the event should not be missed as it will add great value to the knowledge base of local business people.
"Over the past two years, our region has faced challenge after challenge, from drought and fire to a global pandemic, all of which have presented unique and unforeseen challenges for business owners," Mayor Pennisi said.
"When one business owner shares knowledge with others about how to overcome these challenges, a ripple effect is created, inspiring other businesses to keep going."
The event will feature an expert panel of industry leaders including Don Drane (Warwick Solar Farm), Ian Henderson and Michael Britton (Australian Vinegar), Jaimie McMillian (Wild Sage Collective) and Richard Milbanks (Grove Juice). Attendees are encouraged to come prepared for the open forum as they will have the opportunity to direct questions to the panel.
This is a Covid-safe event and space will be limited. Following the success of Council's 2019 business breakfast event tickets will no doubt go fast, so make sure you get yours today.
Breakfast details:
Friday 7 May 2021 7:00am to 8:30am
Churches of Christ Auditorium, Dragon Street, Warwick
Tickets $20.00 (including hot breakfast) available from www.warwicktickets.com.au.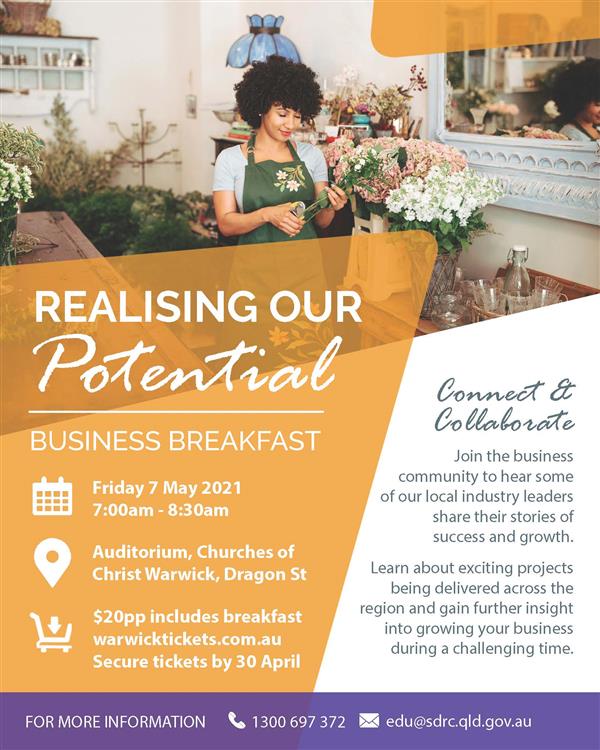 //www.sdrc.qld.gov.au/council/alerts-news-notices/2021-news/2021-april/southern-downs-businesses-bounce-back-better-over-breakfast