Small businesses invited to connect and collaborate in Stanthorpe
Small businesses invited to connect and collaborate in Stanthorpe
02 June 2021
Celebrate the potential of your small business as you connect and collaborate with Southern Downs Regional Council (SDRC) and industry peers at the Celebrating Our Potential dinner in Stanthorpe on Thursday 17 June 2021.
Local businesses and industry groups are invited to an information packed evening with guest speaker, strategist and innovator Jeff Flood as he shares his entrepreneurial journey.  With a special interest in sustainability, natural capital and ethical investing, Mr
 Flood believes that the best feedback for a business, brand or product is how people feel after they have engaged with you.
"Business networking is about making connections not only with likely customers or clients, but also with other individuals who might refer business to you or mention your name in a positive way to people they know," Mr Flood said.
Panelists on the night who will share how their business has pivoted during challenging times include Katrina Fraser from Granite Belt Christmas Farm, Graham Hitchener from Ensby Electrical, Lunsey Colyer from Granite Belt Cleaning and Hospitality Supplier and Liza Sabo from the recently opened Sabo's on Severn.
Southern Downs Mayor Vic Pennisi encouraged small businesses from across the region, not just Stanthorpe, to participate in the event.
"As a recent signatory of the Small Business Friendly Council Charter, it is important for me to ensure that we are taking care of business, Small Business in particular," Mayor Pennisi said.
"I want to encourage business owners and entrepreneurs from across the region, not just Stanthorpe, to attend this event. This is how we can connect and collaborate as a region, when we are in one room together, sharing our skills and our stories. This is how we grow."
Learn about exciting projects being delivered across the region and gain further insight into growing your business during a challenging time.
Venue:                   Stanthorpe International Club
Date:                     Thursday 17 June 2021 
Time:                     6pm for 6.30pm 
Cost:                      $20/head
Tickets:                 www.stanthorpetickets.com.au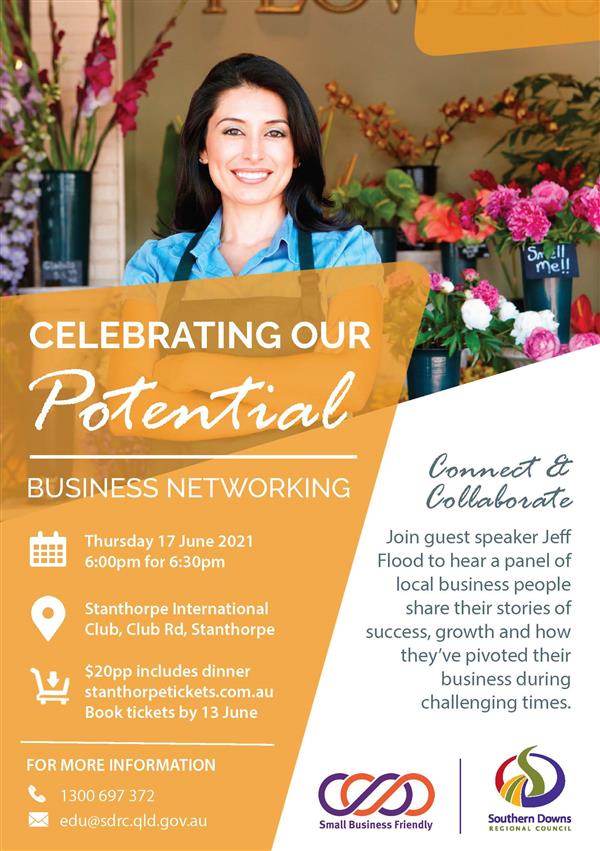 //www.sdrc.qld.gov.au/council/alerts-news-notices/2021-news/2021-june/small-businesses-invited-to-connect-and-collaborate-in-stanthorpe