Renowned artist adds to Warwick's street gallery
Renowned artist adds to Warwick's street gallery
27 April 2021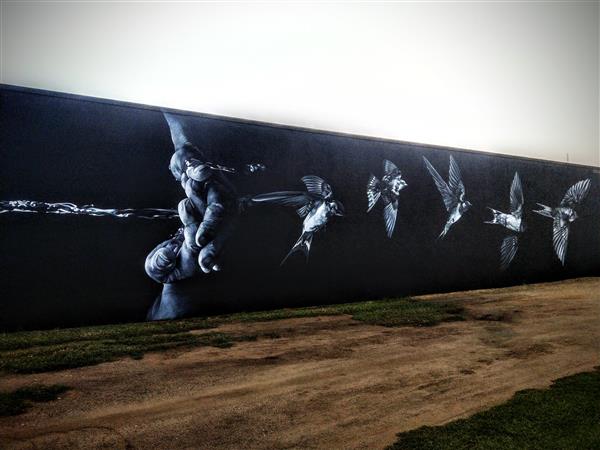 Another blank brick wall in Warwick's CBD was transformed this past weekend with the region's latest commissioned street art completed on Sunday.
Professionally known as Fuzeillear, Sunshine Coast artist Claire Matthews was in town from 23 April to 25 April to paint an exterior rear wall at the Warwick Credit Union lending centre. This was to be the final piece in the Warwick Laneway Power and Public Art project, which received $50,000 funding under the 2019-21 W4Q program, an initiative of the Queensland Government. The project has previously funded street art on the Warwick Cinema and former Warwick State Emergency Services buildings as well as upgrades to the external power supply at the Warwick Town Hall, which will benefit future laneway events.
Street art is a creative way of activating public spaces with visual assets to enhance and layer the pedestrian experience and give tourists a new reason to visit the region and appreciate the urban form. Southern Downs Regional Council is currently in the process of adding both Warwick and Stanthorpe to the Australian Street Art Trail.
Fuzeillear has been living on the Sunshine Coast for the past eight years, creating work imbued with a calm and stillness that she struggles to find in real life.  Working with watered washes and brushes, she uses shadowy textures and strong highlights to bring a sense of depth and space, allowing the viewer to take a breath and, for a moment, float away.
Art enthusiasts can head down to the Council carpark near the Warwick Town Hall to see the completed work.
Southern Downs Regional Council would like to extend its thanks and appreciation to local businessman Graeme Collins and the Warwick Credit Union for their support of this project.
//www.sdrc.qld.gov.au/council/alerts-news-notices/2021-news/2021-april/renowned-artist-adds-to-warwick-s-street-gallery