New travel podcast shines a spotlight on the Southern Downs.
New travel podcast shines a spotlight on the Southern Downs.
9 April 2021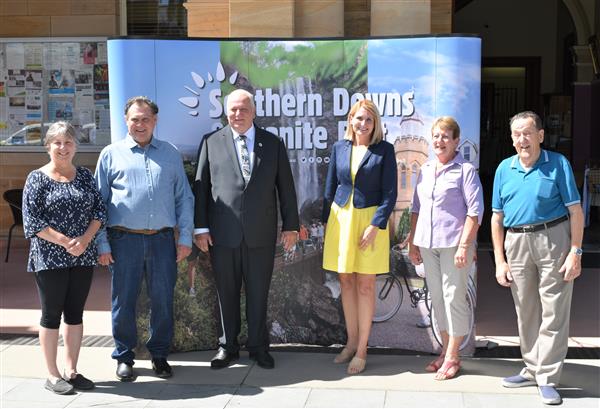 Sue and Tony Hoopmann (Adjinbilly Rainforest Retreat), Southern Downs Mayor Vic Pennisi, podcast creator Sally Eeles, Fran Hockings (Warwick Visitor Information Centre) and Lindsay Mills (Southern Downs Steam Railway) at the launch of the Queensland Adventures podcasts.
A new podcast series is set to showcase the Southern Downs and Granite Belt as the ultimate Queensland adventure destination.

Queensland Adventures is touted as a "go-to-guide for road trippers, travellers and anyone planning to explore the great Australian state of Queensland". Listeners can expect to hear about secret locations, scenic gems, amazing flavours and incredible activities in places they may have never heard of: all insights from the locals who love it.
Created by a group of passionate Queensland media professionals (Grizzly Bear Media, editor Marc Wright and artist Luke Seib), the series was written, produced and presented by journalist Sally Eeles.
Four episodes specifically focus on the attractions and businesses of the Southern Downs and Granite Belt: Food Glorious Food, Active Adventures, Sights and Scenery and Culture and Heritage. Each podcast goes for roughly 25 minutes and can be downloaded from Spotify, Apple podcasts, Acast or wherever you find your podcasts.
"What better way to learn about the Southern Downs and Granite Belt than from the friendly and knowledgeable people who live there," said producer Sally Eeles.
"Our team discovered so much about the sights, activities and flavours in this incredible part of Queensland, we'll be coming back again and again." 
Southern Downs Regional Council Mayor Vic Pennisi said the podcast series was a fantastic initiative.
"The locals who have been interviewed in each podcast, present as passionate ambassadors for the region, whether they be in the food, entertainment, sport or tourism industry," Mayor Pennisi said.
"We are so delighted to have welcomed Sally and her crew into our region and share some of our local hero's stories through her podcast.
"We have a region filled with hidden treasures – from farm stays, to truffle growers, to some of the best restaurants in Queensland and attractions that you won't find anywhere else. These podcasts will help people from outside the region discover some truly amazing things to do and see when you come here to visit. Southern Downs is a great place to live, work, play and stay."
You can access the Queensland Adventures podcasts //southerndownsandgranitebelt.com.au/podcast/
The official launch of the podcasts was held at the Warwick Town Hall on Friday 9 April 2021 at 11:30am.
For more information, subscribe to BizConnect eNewsletter and receive fortnightly updates on Southern Downs business news, support programs, events and more. //investsoutherndowns.com.au/bizconnect/
//www.sdrc.qld.gov.au/council/alerts-news-notices/2021-news/2021-april/new-travel-podcast-shines-a-spotlight-on-the-southern-downs