Did you know the Big Thermometer is online?
Did you know the Big Thermometer is online?
8 June 2021
Will it snow? Maybe the Big Thermometer has the answer.
The Big Thermometer located next to the Stanthorpe Visitor Information Centre may hold the secret if you are looking to countdown the temps in Queensland's coldest town and you can do it all online!
In winter, Stanthorpe earns its title of 'coldest town in Queensland', and experiences high visitation from travellers looking to enjoy the low temperatures and chance of snow. From fireside accommodation, to cellar doors and country hospitality, the Granite Belt is the perfect place for visitors to celebrate winter.
Southern Downs Mayor Vic Pennisi says it might be the coldest place in Queensland, but locals have the warmest welcoming hearts.
"Stanthorpe and the Granite Belt might have the reputation as the coldest place in Queensland, but it is the warm, friendly, welcoming people that visitors return to experience again and again.
"Our wonderful people are one of the reasons why Southern Downs is a great place to live, work, play, and stay" said Mayor Pennisi.
Stanthorpe and Applethorpe often battle it out for bragging rights as Queensland's coldest town, with Bureau of Meteorology (BOM) results often required to settle the final score.
However, BOM equipment in the two towns operate differently causing Stanthorpe's early morning temperatures to never make the news.
Automated equipment at Applethorpe keeps a live feed to BOM up to date, but temperatures at the Stanthorpe site are manually recorded and submitted to BOM by Visitor Information Centre volunteers at around 9am daily. This means that Stanthorpe temps are not reported to BOM before 9am and don't make the morning news.
Enter the Big Thermometer.
The Big Thermometer is home to automated scientific weather equipment by Environ Data from Warwick and is available live on the Weathermation (www.weathermation.net.au) website 24/7 by browsing to the 'Live Data' tab and searching for 'Stanthorpe Big Thermometer'.
The Big Thermometer was an initiative from the Stanthorpe Chamber of Commerce and was completed in 2019 with funding support from the Southern Downs Regional Council.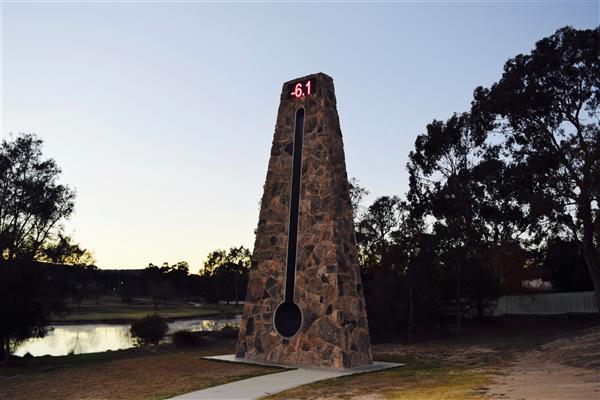 Photo: Stanthorpe's Big Thermometer captured at -6.1C by Patrick Doyle in winter 2019
//www.sdrc.qld.gov.au/council/alerts-news-notices/2021-news/2021-june/did-you-know-the-big-thermometer-is-online